Nutrition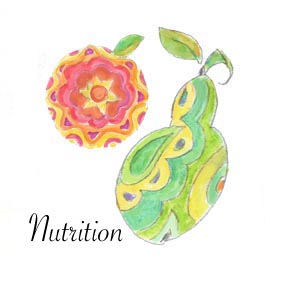 Nutrition: What to include for a diet rich in vitamins and minerals. Eating is something that brings comfort and joy! Make a goal of eating at least 4-5 meals per week at your table with people you love. Provide colorful veggies and fruits that are grown local, organically prepared or enjoy them from your garden when the season is ripe! Neighborhood/Community gardens, Farmers' Markets and your local food co-op are great ways to add fresh, nutritious variety to your diet.
Recipes of the month! from - Eastside Food Cooperative, NE MPLS., MN
Whole Wheat Banana Nut Bread
From South Dakota Honey Cookbook
1/3 C. melted butter – Organic Valley, Valley View Farm, Westby
1⁄2 C. honey – Ames Honey, Beez Kneez, Homestead Apiaries
2 eggs, beaten – Wisconsin Growers, Larry Schultz, Stateline Produce 1 C. mashed bananas – Equal Exchange/Oke Fair Trade
1-3/4 C. whole wheat flour – Whole Grain Milling
1⁄2 tsp. salt
1 tsp. baking soda
1⁄4 C. hot water
1⁄2 C. chopped nuts – pecans or walnuts
Beat together the butter, honey, and eggs, stir in the mashed
bananas. Add the flour, salt, and soda alternately with the water and mix until smooth. Stir in chopped nuts.
Bake in greased loaf pan at 325 degrees for 55-60 minutes. Cool on wire rack.
New Mexican Calabacitas (Squash & Corn Saute)
By Chef Mark Tafoya
4 Tbsp. olive oil – Equal Exchange
(or substitute Sunflower Oil – Driftless Organics, Smude's)
1 red onion*, chopped
4 garlic* cloves, finely minced
4 C. winter squash*, cut in 1⁄2 inch cubes
2 C. corn kernels – SnoPac
2 scallions*, sliced
1 can mild green chilies
1 C. tomatoes, diced – Living Water Gardens
1 C. cooked black beans – Whole Grain Milling Co. 1⁄2 C. cilantro*, chopped
2 tsp. fresh oregano – Rock Spring Farm
Salt and freshly ground pepper to taste Marjoram and cumin to taste
*P6 Produce Suppliers: Comfort Community Foods, Driftless Organics, Featherstone Farm, Full Circle, Gardens of Eagan, Harmony Valley, Just Local Foods, Riverbend Farm, Stateline Produce, Wisconsin Growers
Heat 2 Tbsp. of the oil in a large skillet or wok and sauté the onion for about 4 minutes over medium-high heat. Add the minced garlic and sauté 2 minutes longer.
Add the squash and sauté 5-8 minutes more, until softened. Add the remaining 1-2 Tbsp. of oil with the corn, scallions, and green chilies and sauté 3 minutes longer.
Stir in the tomatoes, cilantro, and beans, and heat through, about 5 minutes. Season with salt and herbs. Serve immediately.